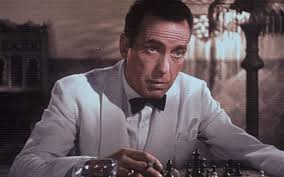 The Maltese Falcon is a 1941 film noir written and directed by John Huston which marked Huston's directorial debut. His screenplay was based on the novel of the same name by Dashiell Hammet, the great American mystery writer known for his hard-boiled detective stories and the creation of one of cinema's most enduring characters, Sam Spade, the detective in The Maltese Falcon played by Humphrey Bogart.  Co-starring with Bogart was Peter Lorre and Sidney Greenstreet as Kasper Gutman, the "Fat Man," who at 61 years old and 300+ pounds was making his film debut which won him a much-deserved Oscar nomination.
Interestingly, Bogart, Lorre and Greenstreet were to be reunited a year later in another Hal Wallis production:  Casablanca.  Ironically, Huston initially offered the role of Sam Spade to George Raft who turned it down because of the "inexperience" of the director.
And indeed as a director new to the craft, Huston made every effort to create an innovative, evocative and professional work on every level of production and he succeeded famously.  For example, he planned every second of every shot to the most minute detail, shot-for-shot setups making sketches of every scene.*  Much to Hal  Wallis' delight, the film came in on time and under budget and proved to be an instant success at the box office.
John Huston (1906 – 1987) of course went on to write the screenplays for the 37 films he directed, many of which are today considered classics.  In addition to The Maltese Falcon he created The Treasure of the Sierra Madre (1948), Key Largo (1948), The African Queen (1951) and many others.
One of the outstanding innovations of The Maltese Falcon was the  brilliant cinematography of Arthur Edeson who was influenced by German Expressionism brought to America by German cinematographers during the 1920's, a production style  which is apparent in Edeson's use of below eye-eye-level shots (for example, the low angle shots of Sidney Greenstreet when discussing the Maltese Falcon) and strong angular compositions combined with low lighting to create menacing shadows, all in black, white, and shades of gray.
Another innovation and by-product of Expressionistic technique shared with Orson Wells' Citizen Kane which also premiered in 1941, was the low camera shots showing for the first time the ceilings of rooms in which the action was taking place, a commonplace today, but revolutionary for its time.  Alfred Hitchcock, who in turn influenced Francois Truffaut, was to employ many of these Expressionistic techniques in his seminal films.
Huston's film is the third version of the novel, the first having been attempted in 1931 with the same title and the second, titled Satan Met a Lady, starring Bette Davis was offered as a light comedy.  By common consensus, Houston's "Falcon" justifiably stands out as the true classic and a lasting cinematic treasure.
by Lidia Paulinska and Hugh McMahon