Inaugural Induction Ceremony October 10th
Voice-Over Actors Hall of Fame to open at the historic Orinda
It has been well over a year since the California Independent Film Festival Association conceived the notion of crafting a special public live event that would recognize the true artistry of some of the great voice-over actors of the past. Whether from animated feature films, animated TV shows, or just cartoons, the work from these voice-over actors are indelible and should truly be recognized and appreciated. Despite these memorable characters these great artists have portrayed, they never seem to receive their due acknowledgment or appreciation that they should have.
With California Independent Film Festival (CAIFF) founder, Derek Zemrak, this situation will soon change, as he plans to open up a newly created Voice-Over Actors Hall of Fame in Orinda which will also have a museum exclusively dedicated to their art and craft and to the inducted artists themselves.
"As you may know voice acting requires extreme talent. Sadly, voice performers are often overlooked. As a result, I am starting the Voice-Over Actors Hall of Fame in the historic Orinda Theatre, located in East Bay of San Francisco, to preserve and educate individuals on the history of Voice-Over Talent." Zemrak continues. "It is time to celebrate this beloved art form that has entertained so many over the years."

The inaugural class includes Mel Blanc, Daws Butler, June Foray and Mae Questel. True pioneers in the industry. In addition, Legacy Characters, Ursula (Pat Carroll) and Living Legend Jim Cummings (Winnie the Pooh, Tigger) will be inducted.
Originally slated for May 16th and 17th of this year, but delayed due to the COVID-19 pandemic, Zemrak and the organizers of the theater reset the new date to October 10th planned for their induction ceremony, and in conjunction will open the new Voice-Over Hall of Fame museum inside the historic Orinda theater, which is located in the San Francisco Bay Area.
The museum will include stunning plaques of the inductees with their bios. Plus a museum of memorabilia on display from their careers. One piece is a 1937 Productions cell from Mel Blanc's first cartoon, Porky the Wrestler.
Here are the details of the event:
The Voice-Over Actors Hall of Fame Induction Ceremony held October 10th a 1PM to 3PM PST. The event will kick off with a Q &A with voice-over actors Bob Bergen (Porky Pig) and Debi Derryberry (Jimmy Neutron). The event can be seen streaming online at www.VOHOF.org, the Voice-Over Actors Hall of Fame Facebook page and the Orinda Theatre Facebook page.
Many national and local personalities have come onboard to support the Voice-Over Actors Hall of Fame including Emmy Winner, Rob Paulsen (Pinky and the Brain), Film Historian, Leonard Maltin, Noel Blanc (Mel's son), Tara Strong (The Powerpuff Girls), Disney animator, Dave Woodman, and Film Critic, Jan Wahl.
With all of these "characters" participating in this event, animated or not; it's sure to be an unforgettable and comical event not to be missed.
THE INDUCTEES:
MEL BLANC: (May 30, 1908 – July 10, 1989) was an American voice actor and radio personality. After beginning his over-60-year career performing in radio, he became known for his work in animation as the voices of Bugs Bunny, Daffy Duck, Porky Pig, and most of the other characters from the Looney Tunes and Merrie Melodies theatrical cartoons during the golden age of American animation.
DAWS BUTLER: (November 16, 1916 – May 18, 1988) was well-known through many Hanna Barbera cartoons, including Loopy De Loop, Wally Gator, Yogi Bear, Hokey Wolf, Elroy Jetson, Quick Draw McGraw, Baba Looey, Peter Potamus, Snagglepuss, and Huckleberry Hound.
JUNE FORAY: (September 18, 1917 – July 26, 2017) was an American voice actress who was best known as the voice of such animated characters as Rocky the Flying Squirrel, Nell Fenwick, Lucifer from Disney's Cinderella, Cindy Lou Who, Jokey Smurf, Granny from the Warner Bros
MAE QUESTEL: (September 13, 1908 – January 4, 1998) was an American actress and voice actress best known for providing the voices for the animated characters Betty Boop and Olive Oyl from 1931.
JIM CUMMINGS: (born November 3, 1952) is an American voice actor and singer, who has appeared in almost 400 roles, including Winnie the Pooh, Tigger, and the Tasmanian Devil.
PAT CARROLL: (born May 5, 1927) is an American actress and singer. She is known for voicing Ursula in The Little Mermaid as well as having a long acting career, including appearances in CBS's The Danny Thomas Show, ABC's Laverne & Shirley, NBC's ER, other guest-starring and series-regular roles on American television as well as voice-acting in several cartoon series.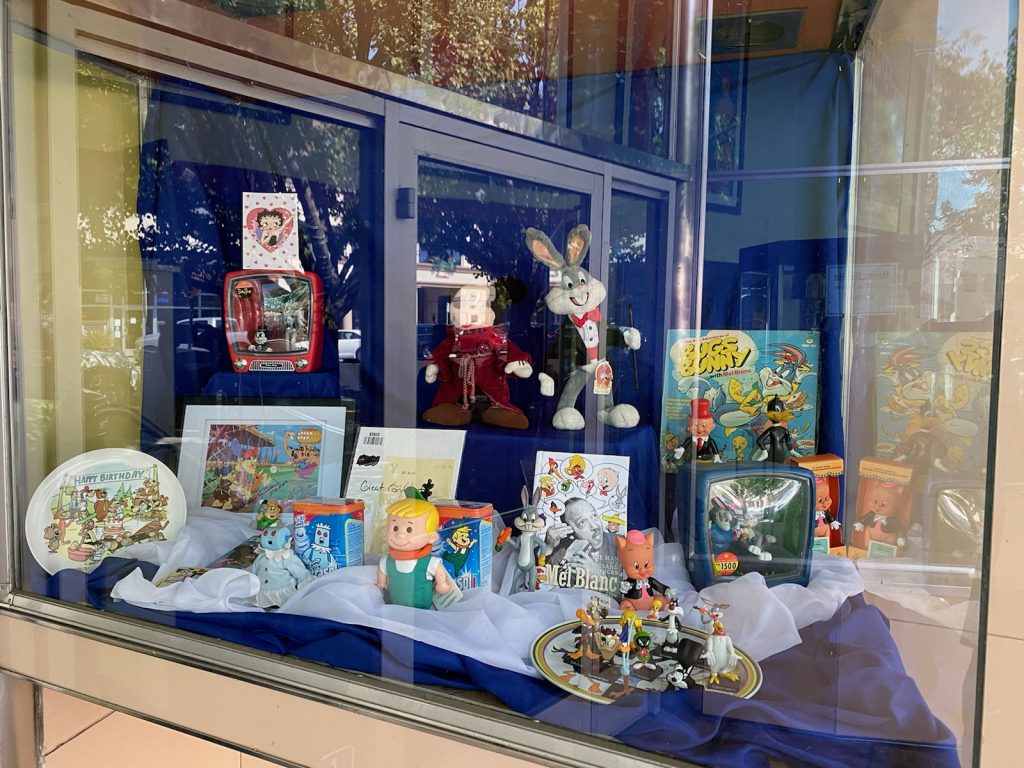 Spanning many generations, from the golden era of the early thirties to today's modern day animated features, it seems fitting to celebrate the greatest voice-over actors and actresses who brought to life some of the most iconic and loveable animated cartoon characters and honor them into the iconic Orinda theater that is no stranger to history itself.
The museum will open to the public when the Orinda Theater opens to the public.
Donations can be made at https://www.orindamovies.com
That's all folks.
Originally published at www.mlsentertainment.wordpress.com