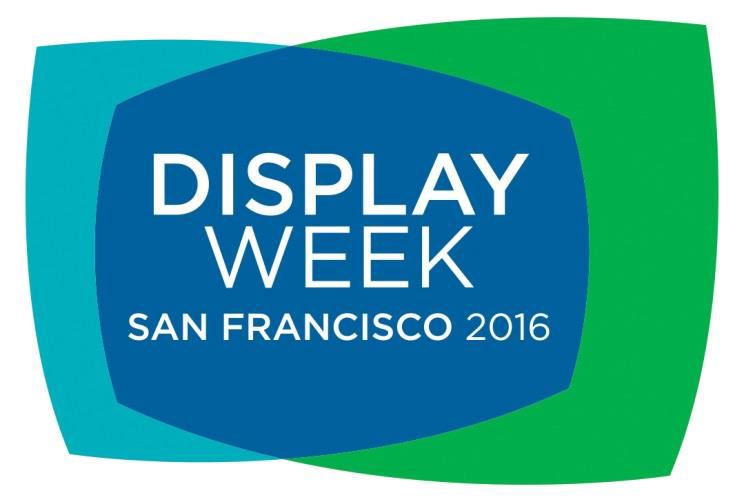 SID Display Week, May 2016 – Digital signage is used to entice and influence shoppers on their way to the retail stores and shopping malls. Tablets that replacing paper menus, allow restaurant patrons to preview and customize their orders. Engaging visual displays are revolutionizing leisure experiences, promoting increased consumer engagement as e.g. instant replay. Digital signage is a modern communication tool.
At the business session at SID Display Week  the presenters: Sanju Khatri, Director of Digital Signage from IHS, Jennifer Davis from Leyard, Karen Robinson from NanoLumens and Paul Apen, Chief Strategy Officer of Eink gave broad overview of digital signage applications that is ambiguous communication tool of our time.
Sanju Khari mentioned needs of outdoor and high-brightness indoor digital signage applications. To address direct sunlight and heat load outdoor displays need to be >2000 nits of brightness, for indoor 1000 nits or higher. Brightness of LCDs can be further enhanced by adding LED backlights and increasing power consumption. However as LED backlights age, they provide fever inputs per watts of power. Cooling mechanisms are essential to maintain lifetime of displays. IP 64 and IP 65 rated. To address harsh and changing weather conditions outdoor displays need to withstand heat, humidity, snow, rain, wind, dust, fumes and dirt. Scratch and impact resistance properties of cover glass is important for both high-brightness indoor and outdoor displays set in high traffic areas. To address heavy usage cycle and vandalism digital signs placed at public settings need additional protection of cover material such as glass or polycarbonate. Important need is also serviceability. Down time of publicly placed outdoor or indoor advertising displays result in negative advertising revenue. Quick turnaround in service and display modules being accessible for on-site repair and maintenance is extremely important.
The Digital Signage market in numbers is growing as well as its revenue: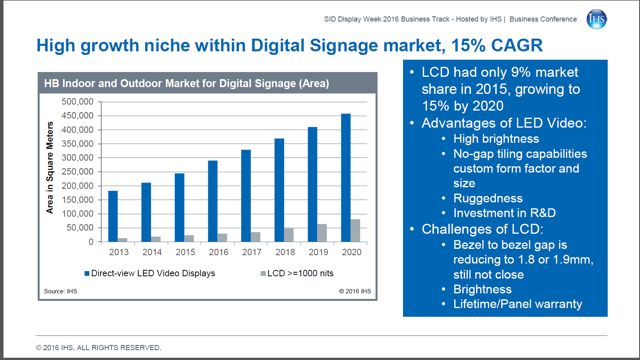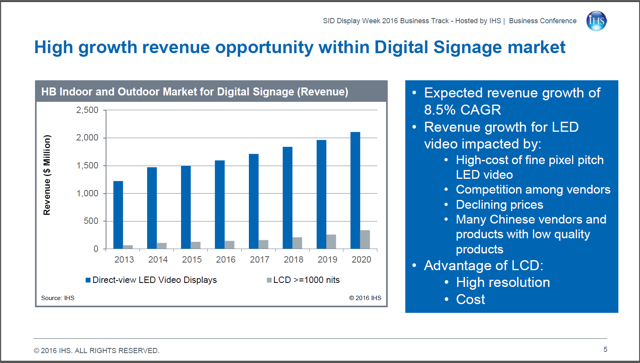 The direct-views LED video displays by pixel pitch in categories of area (square meters) and revenue are portrayed in stats below.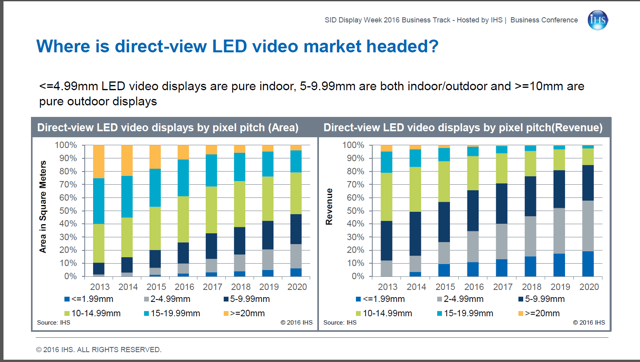 Jennifer Davis from Leyard described the market requirements for digital signage as simple words: Impact and Value – cost effectiveness to the outcome. Those include the features as: seamless (or close to it as they can afford), highly reliable for long-duty cycle applications (all day to 24×7), bright enough and wide enough color to have brand impact, good value.
What are possibilities at LED market?
No doubts that the LED market is expanding, less than 1.9mm pixel pitch grew 279% year in 2015, as well as this area visibility at the related shows such as: ISE, InfoComm China, where more fine-pitch LED offering and vendors were showcasing.  The falling costs with the price elasticity makes market growth for LED. Led now is 13% more than rear-projection cubes and 7x the cost of tiled LCD. Down from 200% and 21x two years ago. Davis stated that future grown will be determine by innovations and market maturation.
Karen Robinson from NanoLumens shared her view on current generation that is driven by passion for social media that allows sharing and viewing video.  As digital signage is an ambiguous communication tool: displays TV are rising in quality, not just quantity; mobile phone displays continue to improve and Dooh has shifted from vinyl wrapped boards to vibrant LEDs. Display driven generation demands that smartphone and tablet adoption have added new screens. Just as a reminder – in 2000 it was not possible to stream video over a phone. By 2018, over 2.5 billion consumers will enjoy ability to stream video on their smartphones as well as 1.5 billion tablet users worldwide by 2019.  Today the average household has 5 or more video-enabled devices.   Traditional signage, billboard and display advertising is rapidly shifting to digital and has changing the way we eat, shop, work, play and the way we live. By auto profiling customers and their expected behaviors ahead of their actual presence vendor can quickly customize and personalized the content. Displays become more interactive. Robinson presented few digital displays from worldwide that perfected to create engaging and immersive experiences: American Airlines Arena in Miami, Florida; Holt Renfrew in Ontario, Canada; Mac Cosmetics store in Waikiki, Honolulu, Hawai; Pacific Fair in Broadbeach, Australia; Sport Chek in Toronto, Canada; Telstra in Sydney, Australia and T-Mobile store in New York City, NY. Those examples combine four areas: Architecture, Information, Advertising and Art – she stated.
Paul Apen, Chief Strategy Officer of Eink talked about alternative signage that is ePaper. That display allows outdoor readability, unique form factors and off-grid installations. He stated that it can be used in many areas such as: transportation, conference room, public spaces or retail. The effective signage design should also complement its environment as ePaper does.
Dynamic content management is next thing coming. There will be more relevant content directly to shore, location, and customer. Also economics of the business is allowing the prices to go down. That is the trend now.