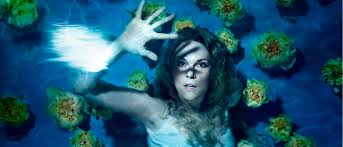 Fathom events, March – The Metropolitan Opera's magnificent production of Antonin Dvorák's 1901 opera Rusalka was enjoyed by audiences world-wide on Saturday, February 25, 2017.  It was viewed in hundreds of cinemas  throughout the world through "The Met: Live in HD" series, an invaluable cultural treasure presented by Fathom Events.
The New York Times had hailed this stunning production as "a shockingly dark, sexy drama,"  an unlikely description of an opera, especially one based upon "The Little Mermaid" fairy tale.  The Times goes on to observe, "the mysterious look of the production, fantastical and ominous, combines with sensual singing by a handsome cast to create a romantic energy rare at the Met — or at any opera house."
The visually rich production, the work of Mary Zimmerman, is indeed fantastical, with shimmering sea-green flowing costumes on the water nymphs against a background of a huge harvest moon projection and the huge Met stage dominated by an ominous giant snake-like Monterey pine which seems to quietly terrorize like a monstrous atrophied boa constrictor.
The superb cast is lead by the Lovely Latvian soprano Kristine Opolais who offers us a vocally lustrous and beautifully rendered performance as Rusalka, the water nymph who longs to become human and makes the mistake of falling in love with a handsome human prince, played by the compelling tenor Brandon Jovanovich.  The vocally and physically imposing American bass-baritone Eric Owen powerfully commands the role of Rusalka's father, the Water Gnome. The wonderful cast is completed by the performance of Jamie Barton as the evil witch Ježibaba who interprets the villainous role to perfection. There's a theatrical tradition that occasionally calls for a villain to display hints of humor and irony, and Mr Barton doesn't disappoint.
Conducting the Met orchestra was the renowned maestro Sir Mark Elder who interpreted Dvorák's Romantic score with much spirit and passion.
Rusalka at the Met was delightful and a memorable operatic experience not to be missed.