Chairman and Chief Executive Officer of General Motors, Mary T. Barra, gave a keynote onstage at the Moscone Center in San Francisco at the 2020 RSA Conference addressing the future of GM's autonomous vehicles, as well as the company's ongoing cybersecurity challenges they will face within the rapidly growing autonomous technology.
When automobiles were produced on mass scale over a hundred years ago, Barra explained, they had re-shaped our physical environment and gave us freedom. If you were around during the bleak thirties growing up during the Great Depression or living in the Dust Bowl, you probably wouldn't have thought that this could be possible.
However, over the years, the automobile has also given us unintended consequences, as well: crashes, pollution, and too many hours of our lives driving our cars. One stat that really stands out is that according to the World Health Organization, more than 1.3 million people die each year in traffic accidents across the globe, and according to the NHTSA – National Highway Traffic Safety Administration, 94 percent of crashes are caused by human error.
"Advanced technologies such as all-electric autonomous vehicles are poised to alleviate these challenges. More importantly, in contrast with today's data age, autonomous vehicle's (AV's) will continue to improve people's lives.", Barra remarked.
As cybersecurity becomes ever so important with each and every new device, perhaps its biggest challenge is to defend cyber attacks against autonomous vehicles since people's physical lives will continually be at stake. We're not just talking about the typical hacker trying to take total control of your computer at home, such as in ransomware, but a more of a terrorist hacker that not only will be compromising your data from your vehicle, but also possibly endangering all the passengers in your vehicle.
"There are virtually no industries today that are not vulnerable to cyber-attacks and the auto industry is no exception. We are bringing to market technologies and features that are radically changing what vehicles can do for people and to improve their lives. At the same time customers are bringing more devices into the vehicle and expecting seamless integration. Part of our job is to ensure that our customers and their data are always safe secure and private. Privacy is an extension of security that we fiercely protect."
Barra mentioned AUTO-ISAC, (Information Sharing and Analysis Center), which provides automakers collectively, including GM, to create and share best practices for the entire industry as opposed to individual automakers defending themselves alone. The industry acts as a united front to collaborate and share best practices rather than invest cybersecurity as competitive advantage for each automaker.
"Collectively, we incorporate strong security measures into every phase of the vehicle development process and is this group knows all too well the threat landscape is continually evolving with sophisticated attacks specifically designed to circumvent even the most robust defense systems. Our enterprise defense strategy has to be integrated and multilayered because when a cyber criminal only needs to be affected once, we must get it right 100% of the time."
ZERO CRASHES, ZERO EMISSIONS AND ZERO CONGESTION
By 2039, General Motors' vision is to create a world with zero crashes, to save lives; zero emissions, so future generations can inherit a healthier planet; and zero congestion, so customers get back a precious commodity—time. Technology is a key enabler to achieving this vision by developing connected, electrified and autonomous vehicles that will help us get there.
"It's not a pipe dream. We know it's achievable."…for our customers it means providing the safest product and the strongest cybersecurity possible will also giving them greater convenience better accessibility and all while doing it at it affordable cost."
"Technology is a key enabler to achieving this vision by developing connected, electrified and autonomous vehicles that will help us get there….before consumers invest their trust in us, they want to be assured that AV's will operate safely and securely every time without being hacked by outside forces."
"We have nearly 500 men and women including penetration engineers, cryptologists, mathematicians, data analysts, program managers and true hackers. We're developing in depth defense modern touring in detection and incident response capabilities that we continually test, rework and refine".
A critical cyber breach involving any one AV car company will be an incident that affects everyone in this space. It could severely undermine the consumer confidence in this type of mobility and even delay the industry's ability to share these benefits with customers and society.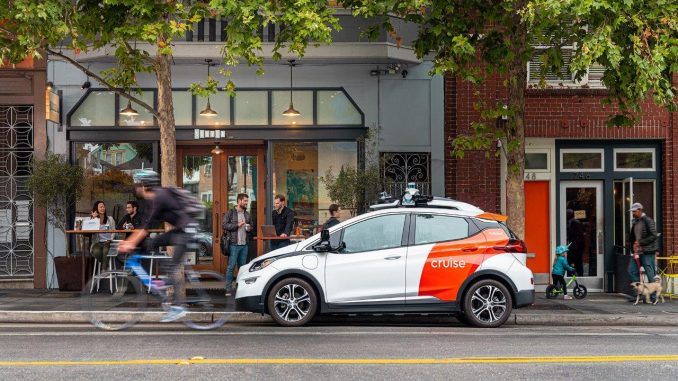 CRUISING ALONG
GM acquired Cruise in 2016, a self-driving car company headquartered in San Francisco, where they have been test driving through one of the most challenging cities to drive autonomously. Since their acquisition, GM has allowed them to remain responsible for both technology and commercialization, giving Cruise independence in order to avoid the pitfalls common when technology startup is acquired by a big corporation.
In addition, GM re-engineered their vehicle development process to include cyber security from the earliest stages of vehicle design with multiple layers of protection to defend the vehicle and its systems. GM will also introduce the first vehicle models with our new vehicle intelligent platform (VIP) this year, which supports new EV technologies, active safety systems, over the air updates, 5G networks and enhanced cyber security protections.
Barra acknowledged the critical need for cybersecurity jobs that would need to jump from 1.8 million to 4 million by 2022, and emphasized that women and minorities continue to be severely under represented in the engineering fields.
With GM's outreach, they have encouraged nearly 300,000 young students and teachers across the US, to pursue such rewarding careers. Two years ago, working with the Society of Automotive Engineers, GM introduced a new interactive student cybersecurity challenge and curriculum teaching them how digital information is transferred and protected in their every day lives as well with opportunities in STEM careers in mobility.
This is why it's important for the automotive industry to work together to secure a strong enterprise-wide cybersecurity posture and why STEM education and careers will be even more critical in the coming years.
"If we want to cultivate young people to be part of our future we need to invest in theirs.", Barra explained, as she came to a close with her keynote.
"It's a crucial time for the auto industry but it's also an incredibly exciting time."
Just like a futuristic vision of the 1939 World's Fair, it will be a fascinating ride for all of us to see how the AV revolution will unfold.