"There's a way to do it better – find it" – Thomas Edison.
Over the years, the GE brand has been synonymous with Thomas Edison, America's greatest known inventor. Though he wasn't the original inventor, he improved on the original light bulb and took it a big leap further. He modernized it to last much longer compared to any of his other counterparts could have done, thanks mainly with his brilliant idea of the development of a more durable incandescent material, better elimination of air from the bulb by the creation of a vacuum, and a filament material with a higher resistance which promoted economically efficient power distribution.
Needless to say, he practically changed the world "overnight" as electric lighting became widespread everywhere.
By the flick of a switch it was "night and day".
Thanks to dramatic improvements of LED lighting over the years, smart-lighting technology has been catching on with consumers everywhere. People are ditching traditional incandescent bulbs in favor of LED lights that last up to fifty times longer, use less energy, and do not contain any mercury. More recently, the traditional incandescent bulb has been banned by many governments around the world as they are not energy efficient and is unsuitable for the environment.
GE Lighting, a Savant company, purchased General Electric's Lighting Company just less than a year ago and introduced the LED+ Collection line. Just like Thomas Edison did back 129 year ago, Savant, went to the drawing board with their engineers to design and improve the GE LED light bulb. The LED + line has improved on the solo light bulb, as each bulb in the LED+ series has one extra feature to make life a little better. What makes this collection unique is that the features are built right into the lights, eliminating the need for apps or additional hardware for seamless set-up and ongoing use.
The LED+ Collection:
There are six different LED+ products so far in their lineup: LED+ Color not only remits white light, but also has the option to light ten different colors with the use of a remote. The LED+ Battery Backup is quite practical when your electricity goes out, the bulb will go to a battery backup and you will have light for at least five or more hours. You can even use it as a flashlight backup and take it where you need it. The LED+ Dusk to Dawn bulb automatically turns on your bulb in the evening at sundown as it gets dark and turns off when daylight approaches, perfect for porch lights. The LED+ Linkable Motion turns on automatically when it detects motion outside for safety, as well as scaring off intruders for security purposes. The LED+ Timer turns on and off at any time you set it to.
GE Lighting's line seems to just put one bright idea on top of another for the home connected space.
The product I was most thrilled about reviewing from the LED+ line was GE's LED+ Speaker Bulb, It comes in the traditional A-line bulb and a BR for recessed can applications. My review is based on the A21 bulb.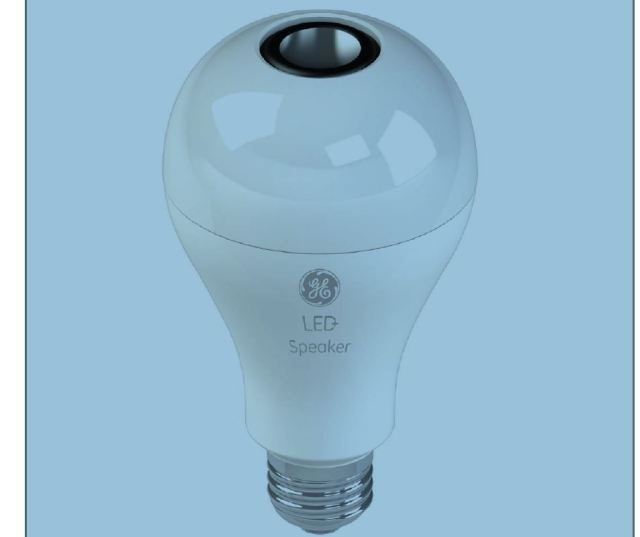 THE SET-UP
It certainly didn't take much effort or time to set up the GE LED+ speaker bulb up; perhaps, about a whole minute. There are basically three simple steps: screw in the light bulb in the light socket, pair and connect the Bluetooth to the GE speaker bulb, and stream whatever media you would like from your device, such as a smart-phone, tablet, or laptop.
Using my smart-phone, I immediately found myself playing songs from my favorite musical apps like Spotify, Pandora, and Amazon. I was even able to stream my favorite local radio stations on radio.net. Of course, if you have music files on your phone, you can play those, as well.
I was pleasantly taken with the sound quality of the bulb. The speakers produce a very nice respectable sound considering how they are built right on top of the bulb with its circumference being about the size of a half dollar coin. The LED+ speaker also has a remote that comes with it so you can turn on/off the light or adjust the volume on it. Regardless of whether you are increasing or decreasing the volume, the clarity of the speaker is very clean with no hint of any distortion, which is quite impressive. The remote also allows you to connect and disconnect your Bluetooth, as well as being able to dim or increase the brightness of the light.
One advantage of having an LED+ speaker is when you are at home with a group of friends and want to share media from your device. For example, a typical situation might be when you are trying to share a video on your smart-phone, but unfortunately, even though everyone is gathered around it closely, not everyone is able to clearly hear the dialogue clearly enough due to the sound limitations from the smart-phone's speakers. Of course, it also doesn't help when your environment gets a little noisy.
With the LED+ speaker bulb, you won't have to suffer through this type of scenario. It's astounding how clear and audible this speaker can get. Some may confuse it as being primarily a Bluetooth speaker that also contains an LED light bulb instead of the other way around. The party continues.
For those with multiple lamps or light fixtures next to each other in a room, you have the option of putting up to ten speaker bulbs across the room all at once. While these aren't multi-channel or stereo speakers, the more you have, the more robust the sound, especially coming from a ceiling space. With these built-in speakers camouflaging as a light bulb, I love the idea that they aren't taking any additional space in the room. Watch for house guests to glance around the room wondering where the sound is coming from.
Given how simple these are to setup without any complex configurations, GE Lighting made me a believer that everyone should install LED+ speaker bulbs in all the rooms in their homes. I just love the idea of knowing I can just stream anything from any device in any room in the house and and knowing I can have instant music without having to turn on any electricity from something plugged into an outlet, like a radio, stereo, or even Alexa. It's instant gratification at its best.
Thomas Edison would have been proud with the GE LED+ speaker, if he were alive today. It's as close as you can come to with two of his greatest inventions that were invented within two years of each other: the light bulb and the phonograph cylinder. The LED+ speaker is basically the combination of one great Edison invention built on top of another. The fact that you are able to reproduce music through a light bulb instead of a phonograph cylinder may be one of the greatest inventions that Edison has never seen. If he was alive today, it would be music to his ears.
Previously published on mlsentertainment