Whether you're a recreational or an avid bicyclist, one of the most crucial items to bring along with you on a medium to long range trip is a good bike light. As the sun sets and it's just about time to return home after spending a day with friends, you suddenly realize that you may have to ride home in the dark. Visibility and safety becomes the primary concern, especially alongside the fast-paced traffic as you need to see and also be seen.
As you start your journey back, you realize your bike lights aren't as bright as they should be and you blame it on the possibility of weak batteries, so you park by the side of the road to change them. You reach into your back pack and fumble for your screwdriver and extra batteries in the pitch darkness, but since you weren't sure you brought them in the first place, you start cursing at the starry night above.
This has been a typical scenario if my life before I started using solar powered products.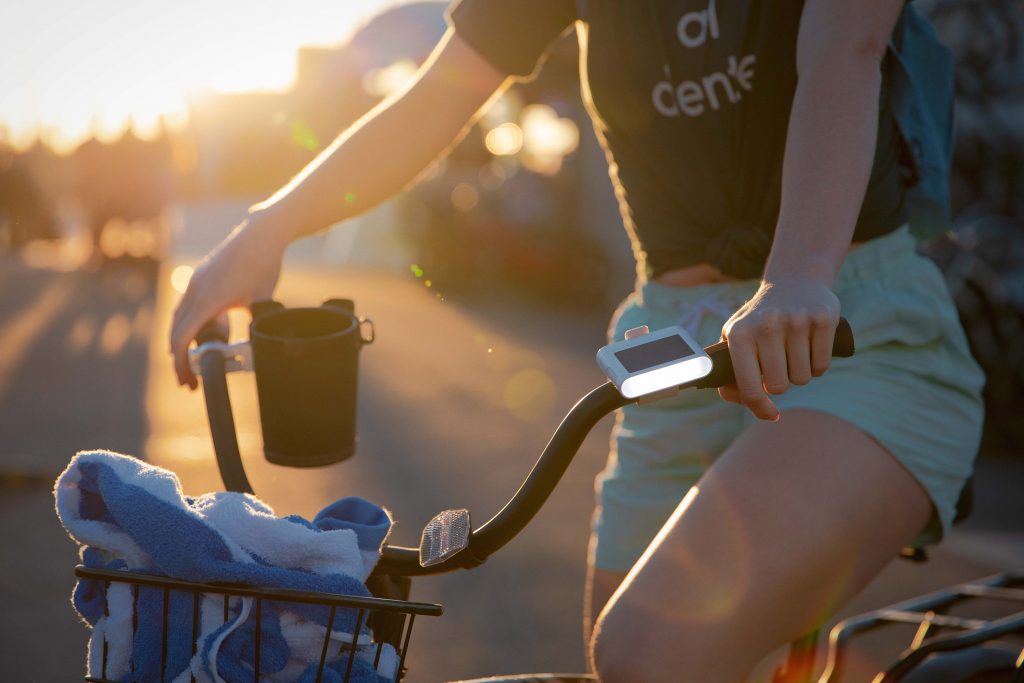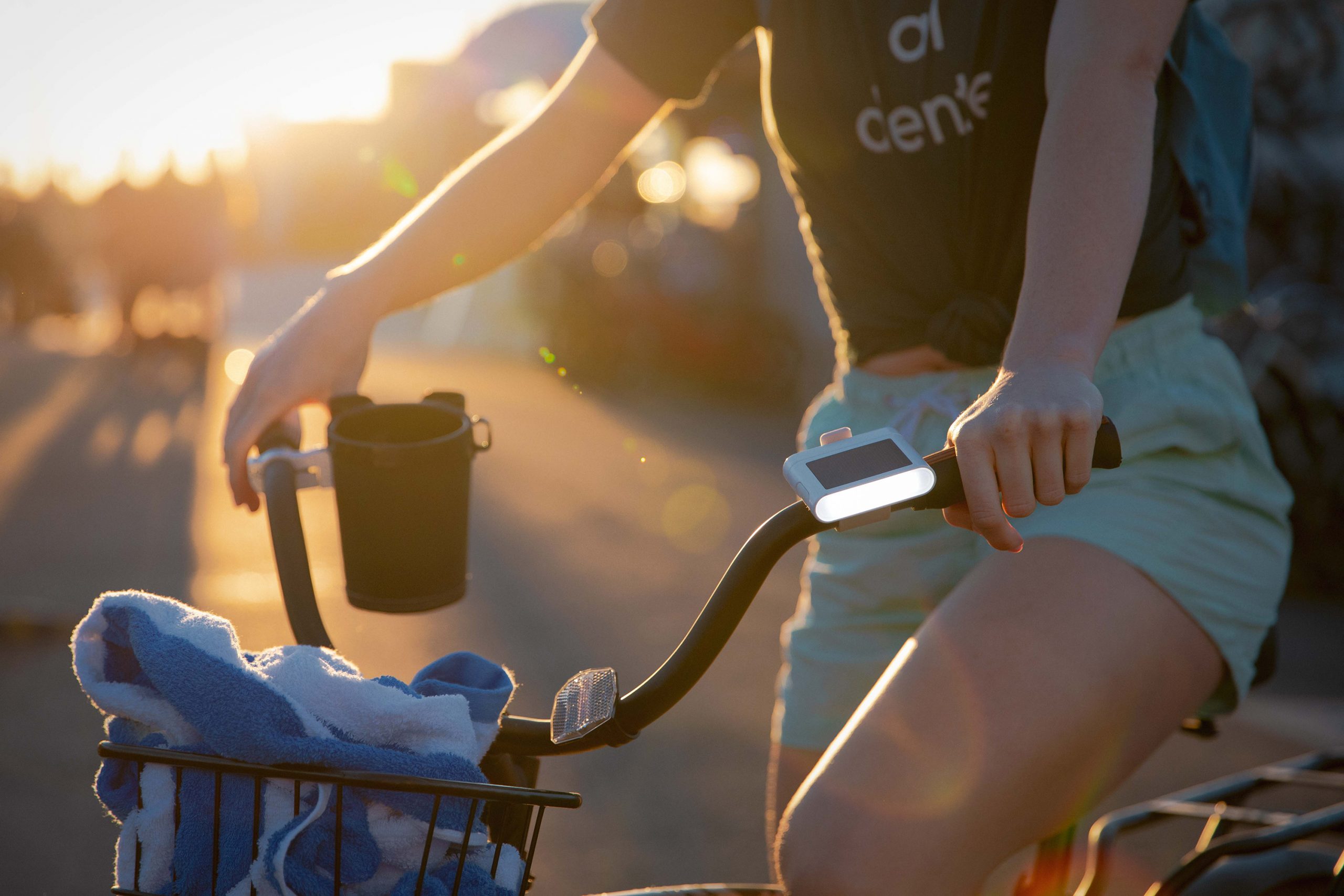 Sometimes, it's actually not the batteries fault because of the ever changing lighting conditions on the roads. Cyclists always want their lights as bright as possible, but with most bike lights, it is not possible unless you bring a battery tester with you to ensure the battery is holding up properly.
I would always find myself consuming countless conventional batteries because I would simply forget to turn off the bike light after each use and would later discover that the batteries were completely drained. Oops.
I also tried going the rechargeable route, but they were not up to par with the conventional batteries since they never held a constant charge. The lights would flicker inconsistently due to the rechargeable batteries lower voltage compared to those of the conventional ones.
To a cyclist, the inconvenience of changing batteries on a bike light is an irritable experience equivalent to that of a person driving a car who has to pull off to the side of the road due to a flat tire.
Luckily, the latest MPOWERD Luci Bike Lights solves these problems, thanks to solar.
INTRODUCING MPOWERD LUCI BIKE LIGHTS
There have been some gnarly looking solar bike lights on the market, so it's refreshing to see the stylish MPOWERD's Luci bike lights as another option. It has a minimalist design and weighs a mere two ounces for the front light and 1.2 ounces for the tail light. It almost looks like it was designed to look like an iPod accessory, even though it's not.
It has a very sleek and stylish bezel, and is very easy to use. Besides being portable and adjustable, it is also waterproof. Even if you get drenched in the pouring rain, be assured that you won't have to worry about the light ever malfunctioning while pedaling away frantically.
There is a power button on both headlight and tail light. As soon as you turn it on, it defaults to the low light mode. Each time you push the button, it advances to medium, high, and then to a rapid flashing mode that is guaranteed to get everyone's attention.
The MPOWERD Luci bike light needs bright sunlight for about eight hours to fully charge its 750 mAh lithium-ion battery through its solar panels. If it's not quite sunny enough or if time is a factor, you can plug and charge it through it's port through using the micros USB cable that comes with the product. Of course, you can also use a power bank, if you have one laying around.
The front light features a battery indicator to indicate if it's running low on its battery. Green means it has more than 56% to 100% battery power, yellow means it has 11 to 55% left, and red means you have 0 to 10% left. There is a peace of mind knowing that the brightness will be constant at all times, regardless of which of the three different settings are being used.
Luckily, it is quite versatile, so you can take it with you anywhere you go, inside or out. The headlight stands at about an 80% angle, so it can reflect against a mirror or wall making it a perfect light source. It's like having an extra wall lamp and perfect to use as emergency backup situations, as well.
IT'S A SNAP – NO TOOLS NOT REQUIRED
The MPOWERD Luci bike light comes in a nicely designed package containing two small post-it sized boxes, each about an inch in height. One box contains the headlight, mount, and a grey silicon strap. The other contains the taillight, mount and two yellow straps.
The mounts have industrial strength magnets that are attach and detach to the bike. It's tempting to carry them in the original package, but it is best to keep them in a zippered jacket, pant pocket, or even in a small compartment of a backpack instead for easy access.
The setup is a piece of cake, though some bikes may be better equipped to mount these lights depending on the location of where the lights can be mounted. Since, both headlight and tail lights snaps via magnets into the fixed mounts, it would be preferred if the location spots on the bike were made of steel or of any type of magnetic properties.
For example, if the handlebars have exposed steel on it, then the headlight will clamp magnetically onto the handlebar…and it will stay 100% secure without needing the straps.
However, if your handlebar is not made of steel or does not have magnetic properties, such as my old ten-speed touring bike which is made of aluminum alloy, which is also covered with grip tape, then the straps included in the box are certainly required in order to mount the headlight. The Lucid bike strap helps keep the headlight secure and stable and also keeps the light from rattling, though it is certainly not as secure compared with the magnetic snaps.
The taillight installation is quite simple. All that is required is that your seat is raised up at least three inches to free up the exposed steel on the seat post giving it a perfect mount that would be secured with its industrial magnet strength bond.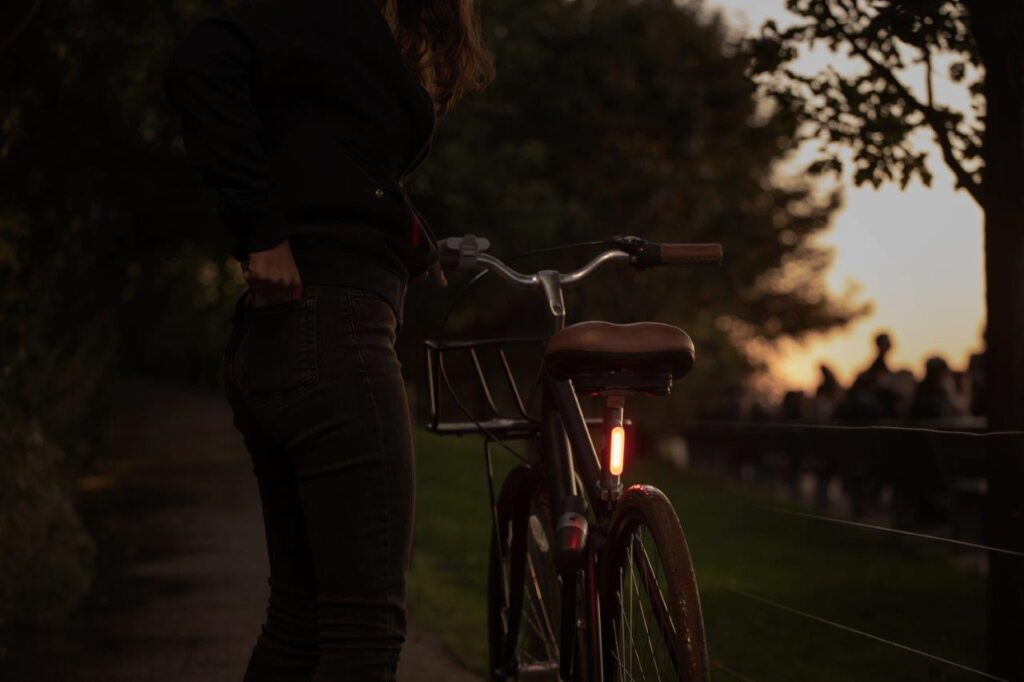 In my case, however, I decided I didn't want to raise my bike seat another inch due to personal seating posture preferences. I switched and mounted the tail light to the rear steel post frame of the bike, along with the silicon straps, even though the smaller frames that support the rear wheels slightly obstructed the tail light, but is still very visible for everyone to see in the dark.
In the olden days, I used a screwdriver, pliers and a wrench to mount my bike light. Most of the time, I would completely ruin the bike's design and scratch the bikes paint and logo just trying to attach the metal clamp around the frame of the bike.
Luckily, this is no longer the case, as the new silicon straps that the Luci bike light made of flexible silicon is harmless to the frame. Better yet, I no longer need to use or carry tools.
THE LOWDOWN
The headlight contains 10 cool white LED bulbs and rates 100 lumens. It lasts over 15 hours, after 8 hours of charging in the sun, which I happily confirmed. The tail light is rated at 40 lumens and lasts about three hours, so you may have to recharge it if you plan to ride longer.
One very useful feature of the Luci bike light is that you can also magnetically mount the tail light to the front headlight to charge it up.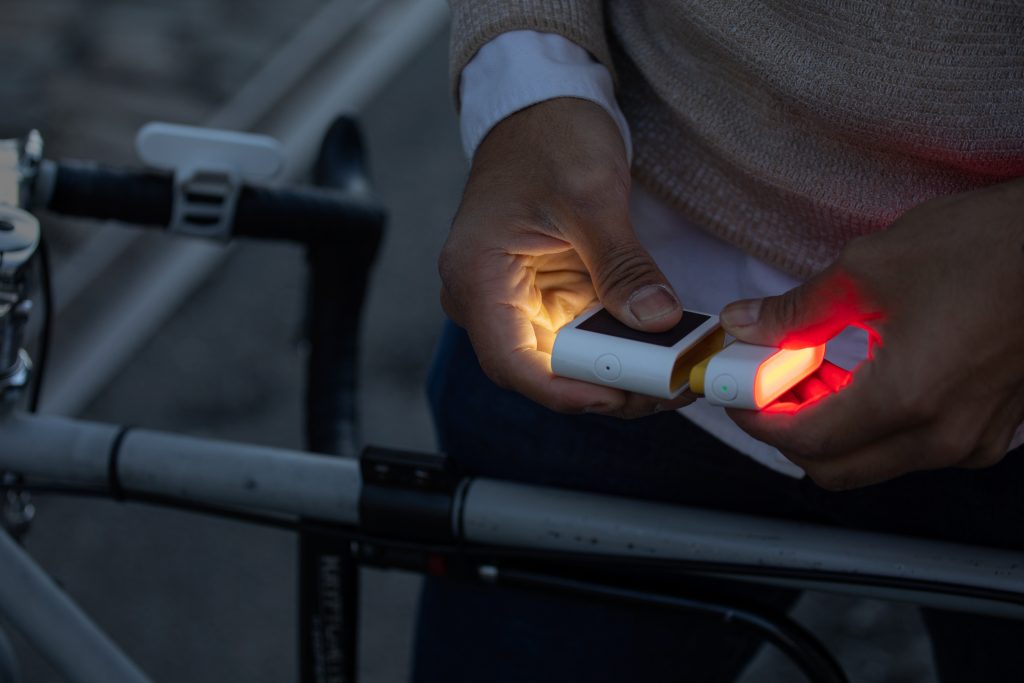 At 100 lumens, I was pleasantly surprised how much light it could generate. Initially, I really didn't expect to be able to see every nook and cranny on the road. I did feel relatively safe, even on unlit paths, just as long as I wasn't speeding too much. It provided ample brightness, though, it might be tough to see sudden potholes that you may not see fifty feet ahead if you are going too fast.
If you are mainly biking on unlit roads and trying to win Olympic medals, then you may wish to consider brighter bike lights that have at least 500 to around 1000 lumens.
CONCLUSION
The MPOWERD Luci bike light is perfect for the casual biker who needs to see and be seen at night, especially in the city. It's perfect for riding during the day with a full charge and then at night for a good couple of hours with the option of using the USB charger.
These bike lights require very little maintenance as you can just leave them outdoors attached to the bike and let the sun do all the work charging the batteries without even having to think about it.
With the ease and convenience of installing it and removing it, you probably never have to worry about having your light stolen ever again unless, of course, if you forget to remove them yourself. It's portability and versatility make it a great light for biking or just as another light source, even in emergency situations.
It would have been nice if MPOWERD would have included a few extra silicon straps along in the package. I can easily imagine myself carelessly losing one or two of them one day and it sure wouldn't paint a pretty picture of me attempting to strap the lights using something else, such as Velcro or duct tape out of pure desperation. Perhaps, in order to avoid this, I may just need to run to the nearest Office Depot or Staples to buy a small binder ring to keep them all together.
From the makers of the LUCI lanterns, The MPOWERD Luci bike light is yet another winning new addition to the company's lineup. How can you not love a company whose mission is to improve lives with transformative, thoughtfully designed, clean technology whose innovative products give people the power of self-reliance and help create a positive environmental impact around the world?
With their products, including the Luci bike light, not only will you help by saving the planet by not having to buy batteries and disposing of them, but you will rarely have to worry about being in the dark ever again…
originally published on https://mlsentertainment.wordpress.com/2021/08/23/the-mpowerd-luci-bike-light-for-bikers-who-want-to-be-seen-in-style-from-dusk-to-dawn/