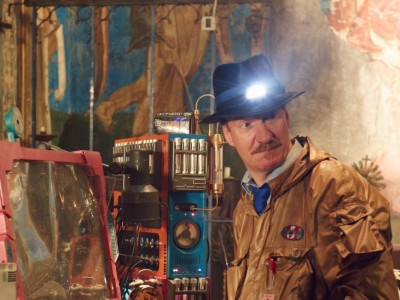 What is the reason for human existence? What brings us happiness? The latest Terry Gilliam film, "The Zero Theorem", might not give us a definite answer, but searches for one with spectacular and remarkable visual images. Gilliam, as always, is funny, witty, provocative, smart and surprising.
In a futuristic London, Qohen Leth , a computer genius, works on a mysterious project. Qohen, who talks always as "we", identifies himself as a non-separated part of collective in the world, where everything is controlled. Big Brother, here called "Management", is watching every step and all activity.
Qohen lives in isolation, in a burnt-out chapel, but his solidarity is disturbed by visits of flirtatious Bainsley and Management's son, Bob. Qoen is desperately searching for love and is anticipating a phone call that will provide him the definitive answer. The Zero Theorem was shot in Bucharest, and a few other places in Romania, and brings dark and wrecked Ceausescu dictatorship era memories.
Christoph Waltz, a two time Academy Award winner, gives another extraordinary performance. This time he plays, an eccentric programmer, Qohen Leth, who is consumed by existential fears and angst. The mysterious project that he has been frantically working on is delegated by Management (Matt Damon). The role of Qohen's sexual desire, Bainsley, a young gorgeous seductress, is adoringly played by French actress Melanie Thierry, and the role of Bob is wonderfully acted by Lucas Hedges (Moonrise Kingdom) and reminds us of Michael J. Fox, from "Back to the Future". The always superb Tilda Swinton also co-stars as Dr. Shrink-Rom, the computer psychologist.
The amazing thing about Terry Gilman is that he doesn't need to search for well known actors to work for him. They want to work with him. He is a member of the Monty Python team, as well as co-director of their feature films , "Monty Python and The Holy Grail" (1975), "Monty Python's Life of Brian" (1979); and the sole director of "Jabberwocky" (1977). His post Monty Python films include "Brazil" (1985) which was given two Academy Awards nominations, and "The Adventure of Baron Munchausen" (1988), which was given four Academy Award nominations. Gilliam made his next three movies in the US: "The Fisher King" (1991), "Twelve Monkeys" (1995), and "Fear and Loathing in Las Vegas" (1998). In 2000, he went to Spain and shot "The Man Who Kill Don Quixote" (2002) and "The Brothers Grimm" (2005).