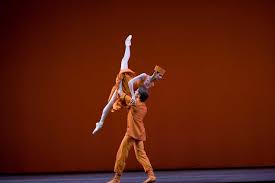 Fathom events, March – On Sunday, March 19, 2017, Fathom Events and Pathé Live broadcast a thrilling and historic program to hundreds of select cinemas throughout the country; and it was a rare treat indeed. "A Contemporary Evening," a triptych of works dedicated to modern choreography, featuring some of the world's greatest dancers, direct from the Bolshoi Ballet in Moscow.
 First on the program, and new to the Bolshoi's repertoire, was "The Cage," by masterful American choreographer, Jerome Robbins, followed by the young Russian-American choreographer Alexei Ratmansky's colorful and folklore-inspired "Russian Seasons."  And finally, "Études" by the Danish choreographer Harald Lander which is considered to be an homage to classical ballet training.
Jerome Robbins' (1918-1998) ground-breaking "The Cage" is set to Stravinsky's Concerto in D for chamber orchestra and had its premiere at the City Center of Music and Drama in New York on June 10, 1951. In a 2003 New York Times review it's viewed as a "sardonic take on Male-female relationships;" and indeed two male creatures are stomped to death and have their necks broken between the knees of a female insect whose web they unfortunately wandered into. AnotherTimes review of Robbins' ferocious ballet from 1982 opines: "Ostensibly set in a matriarchal insect society in which males are killed after mating, the ballet follows the life of one of the insects, referred to as the Novice, from her birth to her murderous adulthood."  Mr. Robbins has devised a wide variety of astonishing movement motifs for his collection of insects, including body undulations, brushing of legs, repeated lunging at the floor, stabbing arm motions, and silent screams to create the sense of non-human predacious creatures . The Bolshoi dancers are certainly up to the challenge and Ekaterina Krysanova as the predatory Novice is both lithe and menacing in the role. Mr. Robbins' underlying theme of male-female relationships may be a bit dated, but the vitality and immediacy of his choreography is as fresh today as it was 66 years ago, and as always, the magnificent Bolshoi is up to the task. Mr. Robbins choreographed works for the New York City Ballet and is best known to popular audiences for his Broadway gems, "West Side Story" and "Fiddler on the Roof."
The second work on the "Contemporary Evening" program, "Russian Seasons," by Alexei Ratmansky (b. 1968), premiering at the Bolshoi Theatre, June 2006, and could not be more different from "The Cage" in style, tone, theme and intent. In a 2012 New York Times review by Anna Kisseldorf of this work when presented by the New York City Ballet states, "The ballet touches on many of Mr. Ratmansky's inclinations: traces of folk dance are given modern makeovers as strange bursts of humor and pathos erupt like tiny fireworks all over the stage. Unison is less of a choreographic conceit than a way to show how a tribe moves with one pulse."  Mr. Ratmansky's use of the ballerina is a pleasure to watch. In a vibrant and vital work choreographed for 12 dancers, 3 of the 4 leads are women and refreshingly, they aren't relegated to "arm putty for tricky partnering or objects to be admired or violated."  The colorful costumes in red, green, blue, violet and burgundy red (uncredited in the movie program notes) become an integral compliment to the spirited movement of the piece and shimmer in stark contrast to the minimalist mise en scene. From 2004 to 2008 Mr. Rtmansky was the director of the Bolshoi Ballet and as of April 2014 he is artist-in-residence at the American Ballet Theatre in New York.
The final ballet of the evening, "Études," was choreographed by Harald Lander (1905-1971) and premiered January 1948 at the Royal Theatre in Copenhagen with the Royal Danish Ballet for which Mr. Lander served as artistic director and ballet master.  This exquisite work is a marvel of balletic continuity, visually chronicling as it does the progression of the dancer's training from emergent student through corps de ballet, and finally to prima ballerina. As a reverential homage to classical ballet, it moves from the ballet studio with students at the barre diligently performing routine pliés then finally to beautifully executed excerpts from the classical ballet repertoire, including performances like the solo "dying swan" scene from "Swan Lake" and other vignettes. The ballet is performed to "piano studies" for music students composed by Carl Czerny which thematically compliments the opening scene of "Études" ("a short, musical composition for practice") which focuses on ballet students at practice. "Études" is considered an homage to classical ballet training, beginning with students at the barre and ending with spectacular classical virtuosity.
All three works in this superb program are "modern" by definition, but performed by the exquisite classically trained Bolshoi Ballet, they sparkle with classical precision and stunning bravura.