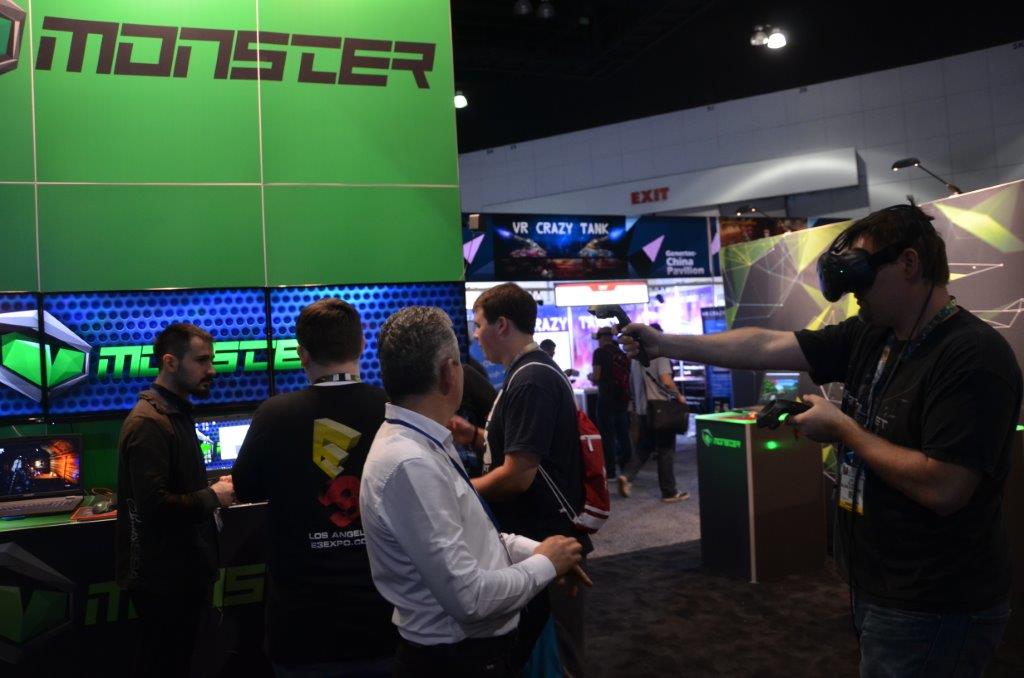 E3, June 2016 – Noel Lee, the founder of Monster Cable, is an entrepreneurial icon in the audio & music industries. He personally designs and tunes every headphones that the company manufactures. Since early 2000s he is active in gaming industry and he presented his products at E3 show this year.
In the new presence at the show, Monster was showing off their high performance wireless products, their high power portable devices, automotive audio and the flagship for the show, their Fatal1ty by Monster gaming headsets.  These were announced at CES 2016 and are the joint creation of Monster and video gamer Johnathan "Fatal1ty" Wendel, who set the world standard for competitive video gaming by capturing 12 World Championship e-Sports titles.
Creativity, Innovation and Music Matter is Noel's favorite statement.
He started his company 37 years ago. Monster Cable & Monster Power was born in Noel's garage.  Today he holds 567 patents and has made milestones in design, comfort & performance.  With successes like Beats by Dr. Dre he has now moved beyond the status quo, trailblazing with higher-performance headphones/speakers with Pure Monster Sound that Noel personally designs and tunes himself.
Here is Noel' story.
In 1968 Noel Lee graduated from Cal Poly, San Louis Obispo and joined Lawrence Livermore National Labs' engineering team. Six years later he left Lawrence Livermore Labs to go on a world tour with his band, Asian Wood. But he did not quit his engineering talents to create a better way to listen to music than through a zip cord. On June 26th, 1978 he registered his new company name "Monster Cable" and began production in his garage in San Francisco. Year later Lee created the first Monster cable and showcased it during summer CES in Chicago. In 1980 his company moved out of the garage to first office 101 Townsend Street in San Francisco. Lee hired his first employees, Tai Min and Shang Yu Chang, who are still with the company today. In 1998 the company moved again to the new headquarters in Brisbane, California.
Of the 567 patents that Noel holds, the first U.S. patent was for the Xterminator electrical connector (1983). He introduced to the market many products: The MacSpeaker, the first computer speaker (1985), Music Logo (1986), Monster XP, the first new high-performance cable since the original Monster cable was born (1991), M Series, with the introduction of a new line of high-end speaker cable (1992). There were also many awards such as three innovation awards for Monsterous product in 2001.
In 2008 he was awarded with the title of "Enterpreneur of the Year" by Ernst & Young after he introduced Monster Game, a new product line for PS2, XBOX and Gamecube. In 2009 he launched Monster iSport headphones and made his appearance in gaming industry. The Fatality headset is his newest premium product that targeting the gaming space, and it was the basis of Monster's first appearance at the E3 expo.    Monster has held a long tradition of having a major presence in consumer, professional and technical trade events and expos, and now the gaming industry has them in their fold.