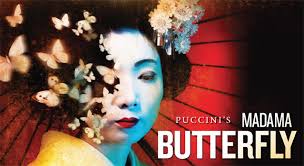 Fathom events – Hailed by The New York Times as "A gorgeous cinematic spectacle," and in continuation of their invaluable cultural service by offering stunning live filmed performances, Fathom Events presented Giacomo Puccini's Madama Butterfly for a one night only screening on April 6, 2016 in over 700 movie theaters worldwide. It was truly an incomparable operatic and cinematographic event not to be missed!
Anthony Minghella's* breathtaking production has delighted and thrilled audiences at the Met ever since it premiered in 2006.  Soprano Kristine Opolais reprises her unanimously acclaimed performance in the title role opposite the extraordinary Roberto Alagna who masterfully portrays the American naval officer Pinkerton who abandons his delicate Japanese Butterfly and breaks her heart. Ms Opals was recently seen at the Met one month earlier in the title role of Puccini's Manon Lescaut with Roberto Alagna in the role of her indomitably suitor des Grieux. That performance was also offered to movie-goers throughout the world compliments of Fathom Events.
Puccini's Madama Butterfly had its world premiere in 1904 at Teatro alla Scala, Milan. It was initially received poorly, but after numerous revisions it became a much-lauded success and today it is one of the most celebrated operas in the world. Puccini was inspired to create his opera after seeing a one-act play in London in the summer of 1900 titled Madame Butterfly, produced by the American theatrical impresario David Belasco. Belasco in turn had based his play on a short story by an American writer of little note by the name of John Luther Long.
The opera premiered at the Metropolitan Opera in New York in 1907 with the composer in attendance and featured world-renowned tenor Enrico Caruso as Pinkerton. From that point onward, its popularity has never waned.
In addition to first-rate performances delivered by Ms Opals, Mr Alagna and the supporting cast and chorus, the simplicity of the production not only allows us to focus our attention on the performers without distraction, but also offers a milieu reminiscent of the austere minimalism of a Japanese Kabuki stage. Set Designer Michael Levine has created an unencumbered performance space, utilizing unadorned sliding framed fabric screens to indicate scene changes while upstage a broad staircase, extending the width of the massive Met stage, functions to herald significant entrances and exits.
Costumes by designer Han Feng, are traditional Kabuki in style, being grand and colorful when appropriate to character, and stand in bold contrast to an essentially bare stage. As in the Kabuki theatre, so too in this masterful production, our focus is drawn exclusively to the performers with appropriately minimalist production values in a subordinate yet supportive role.
The story is simple but the emotions run deep.
Captain Benjamin Franklin Pinkerton, an American sea captain who, while visiting Japan, marries Cio-Cio-San, a beautiful Geisha nicknamed "Madama Butterfly." He departs for America (and here Puccini interpolates a couple of bars from "The Star-Spangled Banner" as he does in every Pinkerton scene) and doesn't return until three years later. By this time Butterfly has given birth to their son and Pinkerton has remarried, this time to an American with whom he returns to Japan. In despair, Butterfly, who has been faithfully awaiting his return, hopefully watching every ship that arrives in Nagasaki Harbor, takes her own life and Pinkerton, in realizing his folly, collapses in abject grief.
An additional indigenous Japanese theatre form Minghella was inspired by was the ancient Bunraku, the puppet or "doll" theatre of Japan. In this production, the puppets are manipulated by traditional three puppeteers, all veiled in black, from San Francisco's Blind Summit Theatre, appearing initially in Act I representing Cio-Cio-San's servants. In the Second Act her young son is represented by a puppet of remarkable life-like quality, and in the final act, puppets dramatize the conflict between Butterfly and Pinkerton in a dream-like play-within-a-play sequence.
This wonderful Metropolitan Opera production by Minghella is now celebrating it's tenth anniversary and one can easily understand why it's one of the Met's more popular offerings and why Puccini's masterpiece continues to be an enduring staple of the operatic repertoire around the world.
*Anthony Minghella (1954-2008) was a renowned British film director, producer, playwright, and screenwriter. His much-celebrated The English Patient won 9 Academy Awards in 1996, followed by The Talented Mr Ripley which garnered an additional 5 Oscars. In 2003 he won another Oscar for Cold Mountain. Minghella was married to Carolyn Choa who masterfully directed and choreographed this current production of his magnificent " Butterfly" . He died of cancer in 2008 at the age of 54.
By Lidia Paulinska and Hugh McMahon