Just when you thought it was safe to go back in the water, a new wave of amazing generation of TV's have been washed ashore in Las Vegas at the CES 2020 (Consumer Electronics Show) from the biggest global TV manufacturers. Despite the fact that the majority of consumers still don't own a 4K UHD-TV set, TV manufacturers rolled out their 8K TV's at CES 2020. LG Electronics, Samsung Electronics, Sony, and even TLC had their 8K sets featured prominently on display at their booths and press conferences.
Improvements in TV display technology over the past several years have been rapidly accelerating as fast as never before. It was only five years ago when 4K UHD-TV's first became available to consumers. After being accustomed to watching standard HDTV's over the years and that fact that there was hardly any 4K content to play or stream, the mass majority of the public was reluctant to adopt to it initially.
Now more than a third of all households who own a HDTV have a 4K HDTV with the number expected to jump to 50% this year. Initially thought of as a niche market, 4K UHD-TV's have finally been embraced by the mainstream and is expected soon to be the new future-proof TV standard.
Walking through the floors at CES, it doesn't take much of a genius to realize that the next generation of TV's that only used to be only envisioned in futuristic science fiction movies are just stunning, gorgeous, and jaw-dropping technical marvels to gaze at.
What's truly amazing is that the manufacturers all use different display technology ranging from MicroLED, Mini-LED, QLED, and OLED. With the latest breakthroughs in display technology demonstrated at CES 2020, the TV's of the future were what dreams are made of that were made into reality.
However, dreams like this don't come cheap, but if you have at least a spare $60,000 to a few hundred thousand dollars to spend, here is your dream come true.
LG ELECTRONICS – ROLLIN' ROLLIN' ROLLIN
Two years ago at CES, LG Electronics, the pioneer of OLED-TV introduced a prototype of the OLED W, (The "W" stands for "Wallpaper"). It was truly an amazing and ground breaking revolutionary technology that was able to keep the pure picture quality of OLED technology with the darkest blacks and brightest whites within its micro thin bezel frame just 2.57mm thick.
LG Electronics expanded their OLED R line, which was briefly introduced last year at CES 2019. (The "R" stands for "Rollable"). Think of these as a portable "UHD-TV in a box" in which the screen rolls up from a long rectangular cabinet that also serves as it's own soundbar. When in use, the display rolls up through motorization and rolls back down when not in use. It's like an all-in one projector and screen all rolled into one.
This year, they have created yet another revolutionary product which may even disrupt the need for movie projectors and movie screens in the future, just like how digital cameras eliminated the need for film cameras.
The latest version of the new LG OLED R line prototypes were shown, which is the exact reversal of the first model. Rather than being put on a flat surface, like a table, the cabinet/soundbar could be mounted upside down from the top of the ceiling like a mounted movie screen. If you want to watch, with a press of a button, the screen will roll down from the ceiling and roll back up when you are done. Even with this compact feature, you still get the best OLED quality with absolutely no loss in picture quality.
Luckily for consumers, they should be available this year. However, the price isn't going to be cheap. Rumors are that the TV will be starting at $60,000.00.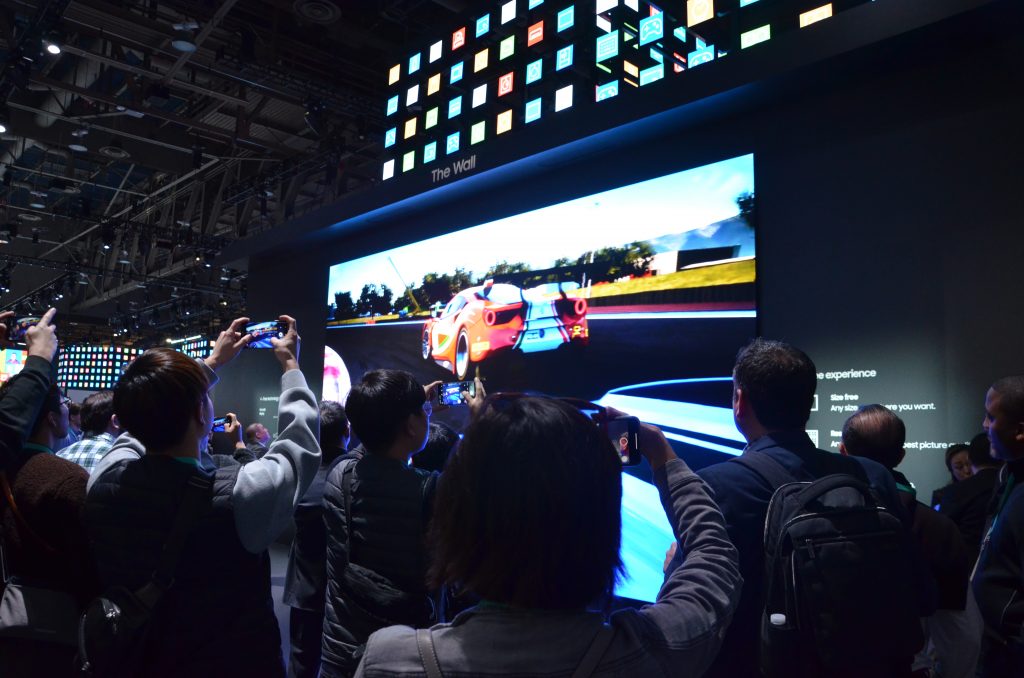 THE 292″ WALL TV BY SAMSUNG
For those who want to buy a TV and make it a permanent fixture in their living space, you can buy "The Wall" TV by Samsung. Available in sizes from 75 inches up to 292 inches, it's the biggest TV display you can buy today, and the only set on the market to offer. There are two versions of the wall; one at 146″ and the other at 292″.
Samsung's microLED technology, which uses super-fine LEDs instead of OLED or traditional LED delivers many of the benefits you'll find in OLED, including perfect blacks and eye-popping colors, but the set also boasts 1,600 nits of brightness, which is brighter than today's OLED sets. More importantly, unlike OLED, MicroLED promises zero burn-in issues.
ALL N ALL IT'S JUST ANOTHER BRICK IN THE WALL...
The 146-inch size might seem random, but it's actually just tall enough to be able to cover most home walls from the floor to the ceiling. Because The Wall is made up of borderless tiles, the modular design allows additional tiles to be added, making this even-bigger version of The Wall possible. Of course, if you live in a castle, you can double or triple that measurement, or just make it custom made. Size does not matter…if you have a deep wallet.
Just like Lego blocks can be built on each other, Samsung has the capability of building it's displays on top of each other without any bezels showing. No borders or boundaries; just pure continuous gorgeous displays. Looking up close, I did not see any irregularities and the image looked seamless. In fact, it can blend into your living space, such as a white wall display that looks like a white wall when not in use.
When not in use, even though it wasn't designed to turn off, "The Wall", can blend in as part of your living space. You can make it part of the wall or you can change it into artwork or even a masterpiece painting by a world renowned painter, such as Renoir. The main point is that it doesn't look like one massive giant TV that is showing up as an eyesore that domesticated wives are accustomed to with home theater type husbands. The wife will be much happier for it.
However, Samsung hasn't put a price tag on this, but considering the 98″ Class Q900 QLED Smart 8K UHD TV is tagged at $59,999.99, you will probably need to take out a second mortage on your home for the 292″ model, if you have to own one.
SONY
Always thought of as the pioneering innovator of TV's, Sony Electronics had surprised everyone at this years CES press conference by literally changing gears and announcing they are going into the electric car business by introducing their Vision S electric car prototype.
Surprisingly there was hardly any news concerning the TV side of Sony's business except that they would be selling smaller sized OLED TV's as little as 48″, which there is a definite need for in the marketplace. This is good news for consumers as OLED prices have come down to earth in price, thanks to the mass adoption demand for them, as well as the growing competition with LG and other brands from China who have announced they are selling in the US in the new year. Vizio plans to come out with their first OLED TV, as well as an OLED line from Phillips, Konka and Skyworth.
In the meantime at their booth, Sony displayed their latest flagship X1 Master Series, featuring the 8K Sony 98″ X1 which has already been selling at retailers listing for a mere $70,000.00. They also had the smaller 85″ line on display which retails at a more reasonable $13,000.00.
Obviously, very few of us can afford this new technology right now, but the real point here is that we have reached this point in technology and that it's here with us to stay.
Who knows?
One day when they figure out how to mass produce these MicroLED TV's, we all may be able to afford a Wall-TV in our home without having to take out a second mortgage.
It's certainly in my dreams…