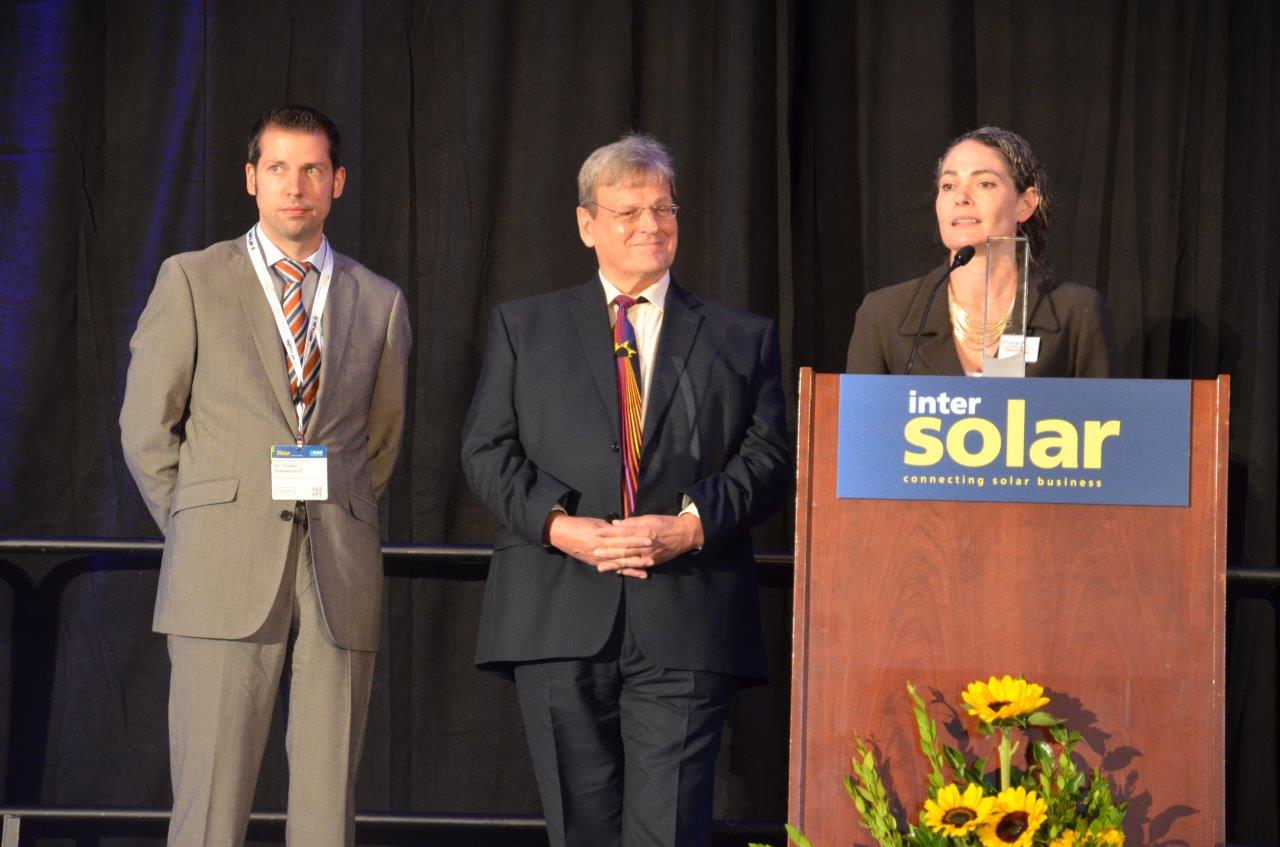 Intersolar and ees North America, the premier solar and energy storage exhibition and conference in North America, today welcomed an expected 15,000 attendees to San Francisco's Moscone Center. Located in the heart of the U.S. solar and storage markets, the event offers more than 40 conference sessions and workshops, exhibitor presentations on two stages, and numerous networking opportunities that connect leaders in the solar, storage and smart renewable energy industries.
A packed room was on hand for this morning's Opening Ceremony, which featured keynote speakers Dr. Elaine Ulrich, senior advisor to the U.S. Department of Energy, and Tony Seba, author and Silicon Valley entrepreneur.
The keynote speakers reflected on the continued growth across the solar and storage industries, spurred by technology developments and groundbreaking policies. Dr. Ulrich also reminded attendees of how collaboration accelerates efforts to bring valuable technologies and services to the new energy economy.
"This industry is incredibly innovative and we're excited about the future we'll see together," noted Dr. Ulrich. "We know that industry partnerships are the cornerstone of our success. Without broad industry-wide participation, we would not be where we are today."
Mr. Seba focused on how smart energy technologies are enabling a major shift in the automotive industry, drawing parallels between the evolution of telecommunications and the electrification of the transportation sector.
"By 2030, because of pure economics, every building, house, device, will have a battery," he said. "That is going to enable another disruption: the electric vehicle disruption. By 2025, if this cost curve persists, essentially every new vehicle will be electric."
During the Opening Ceremony, California Gov. Edmund G. Brown Jr. was honored with the Champion of Change Lifetime Achievement AWARD, presented in partnership with the California Solar and Storage Association  (CALSSA), for his unwavering commitment to solar industry advocacy over the past three decades. Bernadette Del Chiaro, executive director of CALSSA, presented the award, and commended Gov. Brown for his dedication to the advancement of solar throughout California.
"Many of you remember [Gov. Brown's] first foray into solar back in the 1980s. He was supporting our technology way before anyone else saw the potential for it," said Del Chiaro. "During his first term in 2011, we had 2 GW of solar in California. Today, we have 10 times that."
Gov. Brown described Intersolar as a "gathering that can re-inspire so many innovators" before thanking organizers for the award. He went on to note: "It is California that is setting the pace. And yet we ourselves have so much more to do. Recognize, celebrate what we've done, but never for a moment think we are close to the goal – we have miles and miles to go."
The Intersolar and ees North America exhibitions will showcase the latest trends in solar PV, energy storage, and smart renewable energy in six exhibition segments. With approximately 450 international companies present on the exhibition floor, attendees will gain early access to some of the most innovative solar and energy storage technologies being brought to market from across the industry value chain. The co-located conferences will feature over 170 influential speakers who will share their insights into market dynamics and opportunities for growth in 2018.
Solar and energy storage installations in the United States continue to set records and demonstrate their economic viability. According to GTM Research, 55 percent of all new electric generating capacity brought online in the U.S. in Q1 2018 came from solar. Solar installations are forecasted to reach 104 GW this year – moving forward, annual installations in the U.S. are expected to exceed the 100 GW threshold through at least 2022. The U.S. energy storage market is estimated to grow 17 times from 2017 to 2023, while the solar-plus-storage annual market is expected to reach 2.2 GW by 2023.
Focus on Smart Renewable Energy Previews Next Major Industry Development  
Increasingly, utilities worldwide are looking for smarter ways to manage renewable assets, including solar, energy storage technologies, and rising energy demand from electric vehicles (EVs). A recent report from the Rocky Mountain Institute projected that 2.9 million EVs will hit the roads by 2022, adding over 11,000 gigawatt-hours of electricity demand to electric grids across the globe.
Reflecting its commitment to anticipating industry trends, ees North America debuted the Power2Drive conference track, which features four sessions on managing the storage and infrastructure demands of the electrification of transportation. An exclusive white paper from GTM Research, "Grid Edge Innovation – Technologies, Business Models and the Future of Demand Flexibility," offered further discussion on these trends, as well as the market potential for solar-plus-storage. The paper is available for download at http://www.intersolar.us> News & Press > White Paper.
Photos by Marcus Siu
(originally published on mlsentertainment)