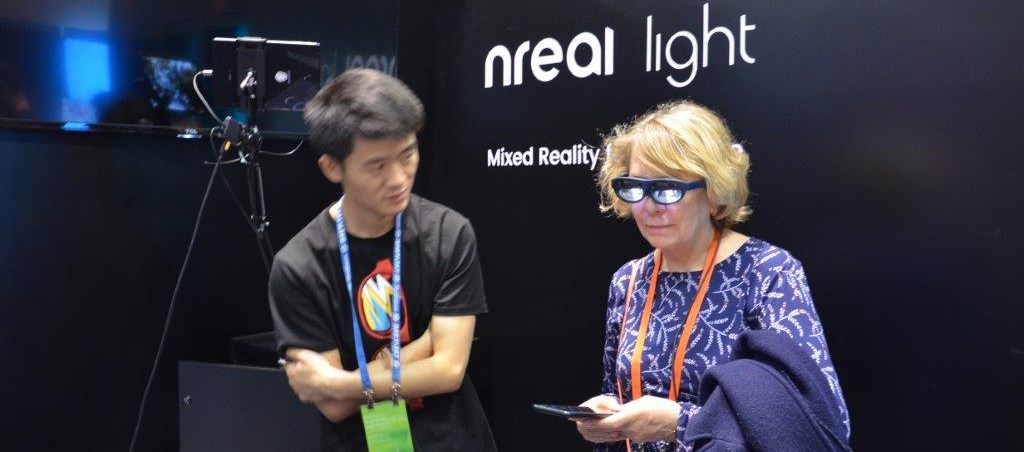 As soon as the Expo floor was opened at the Convention Center on Day One at this year's 2019 AWE conference in Santa Clara, much of the crowd gathered in the congested nreal booth at the main entrance of the hall.  With great anticipation, hoards were checking out the various AR demos on display, as well as queuing up in long lines getting ready to ask questions regarding the release of the upcoming SDK developer kit.
Six nreal glasses were on display surrounding the booth and demonstrated non-stop and around the clock with impressive mixed reality and even trailers of movies, such as the latest installment of "Mission Impossible". There were longer demos that required longer wait times, but it was truly worth it, as the demos showcased an impressive demo reel of 3D AR experiences.
nreal, not to be confused with the elite graphics game engine, "Unreal", though like "Unreal", this company seems to put its priority on delivering high quality and immersive visuals in the Mixed Reality landscape that are quite "eye popping", as well.
Indeed, nreal is one of the newest and exciting consumer product companies to emerge recently. They were this year's recipient at CES 2019 for "Best Startup" company by Engadget, and have been actively developing ready-to-wear mixed reality devices since 2017. In addition to attending the CES show in Las Vegas early this year, they also made an appearance at the GDC (Games Developer's Conference) in San Francisco in March.
At the Augmented World Expo in Santa Clara last Thursday, they announced that they will be shipping the nreal Light Consumer Kit ($1199), which sports a 1080p resolution, 52-degree field of view smart glasses and a 3DoF controller and computing unit. In addition they will also be shipping the smart glasses without the controller and computing unit for $499, which can also be used in conjunction with any smartphone using the Snapdragon 855.
To achieve its relatively low price, the nreal Light Consumer Kit requires consumers to use Android devices that are powered by the Snapdragon 855 chip by Qualcomm, who nreal is also partnering with. Phones such as the Samsung Galaxy S10 series, Sony Xperia 1, LG G8, and the Lenovo Z5 Pro GT all contain the 855 processor and are fully compatible with the nreal Light.
Weighing at a light three ounces, these comfortable MR glasses sport an industry-leading wide-screen vivid display with a stunning 1080p HD resolution, bypassing the visual quality of the Microsoft's Hololens and MagicLeap. Combined with its SLAM-based environment-understanding AI algorithms, nreal offers a truly immersive MR experience for their flagship product.
"We're excited to finally make nreal Light available to consumers, which at just $499 has dramatically lowered the barrier to adoption and introduces a new category for mixed reality devices that are finally within the reach of an average consumer," said Chi Xu, CEO and founder of nreal, in a statement.
The cost makes this truly affordable for this type of technology.
Based in Beijing, this company  just seemed to just come out of nowhere and has a good chance to become a major player in the wearable A/R smart glasses market industry in the coming years.  Looking forward to seeing how they advance the industry.