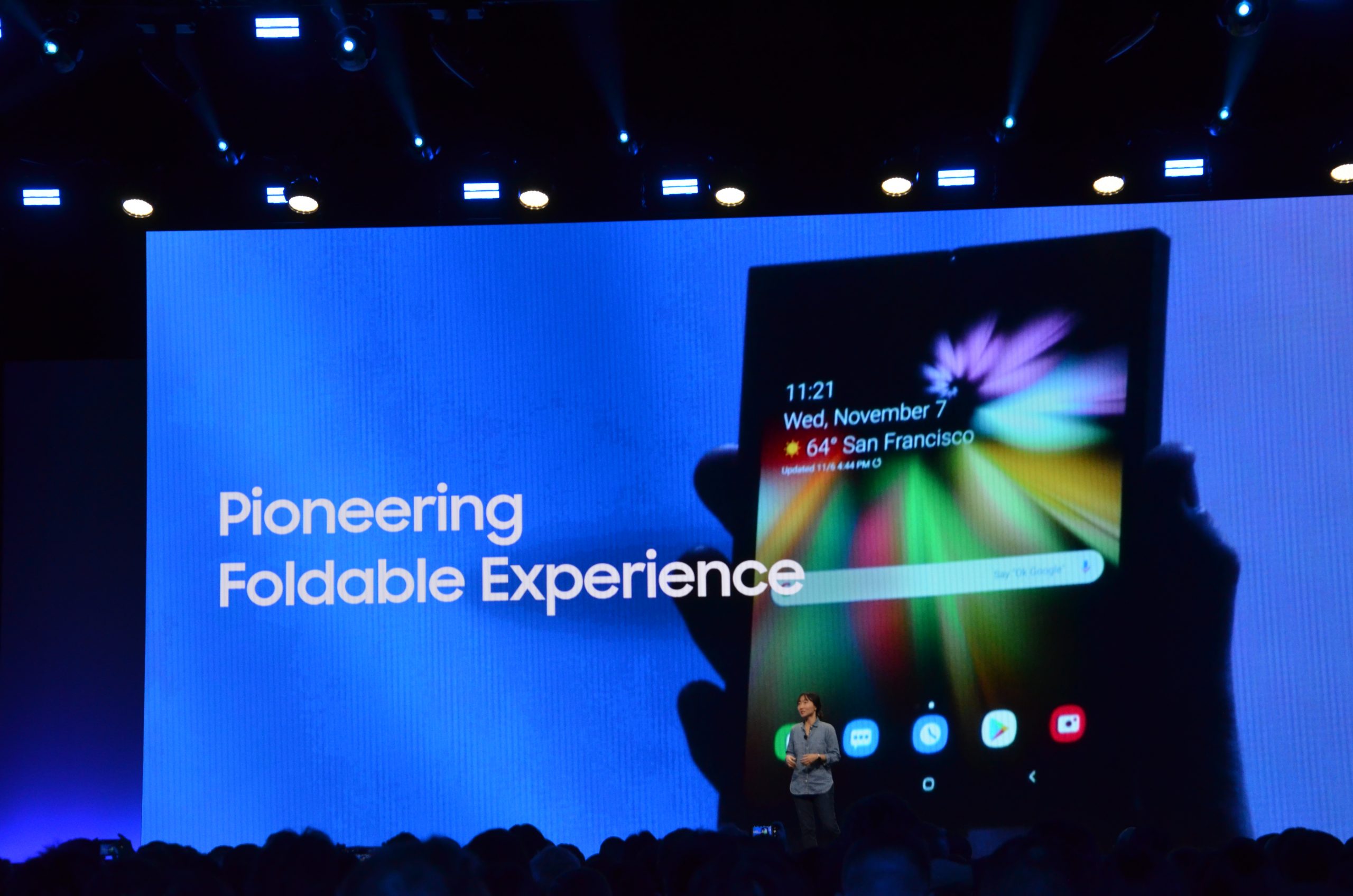 After months of teasing about their foldable phone in conjunction with last year's MCW (Mobile Congress World) show in March, Samsung unveiled their new revolutionary "Infinity Flex" at their keynote address in San Francisco the following November at the Samsung Developer's Conference – SDC2018.
Continuously accomplishing evolutionary improvements year after year and creating new industry standards with each smartphone release, Samsung have simply outdid themselves by re-imagining the design of the smartphone of tomorrow, thinking way outside the box of that could only have been imagined in science fiction movies.
"We've been living in a world where the size of your screen can only be as large as the device itself," remarked Justin Denizen, Samsung's SVP of Mobile Product Marketing at the Opening Keynote at SDC2018 in San Francisco.
"The Infinity Flex Display is the foundation for the smartphone of tomorrow…Infinity Flex represents the biggest leap forward in mobile display technology in the last decade…together with one UI, it lays the foundation for a new platform."
After announcing that the "Infinity Flex" would be in production in April 2019, there were some initial production hiccups after the company had sent devices to various outlets for review. Many reviewers were reporting that their phones were breaking down in just a few days, but one of the main reasons was that some reviewers peeled off the screen protector thinking it was supposed to be removed, when it actually was one of the innovative layered components that protected the device that should not have been removed.
Even with a warning on the instructions not to peel the layer off, many reviewers did not read the literature in the box. However, since reviewers are a microcosm of consumers, Samsung needed to redesign and extended the layer so it would make it a permanent part of the phone.
In regards to the other issues, Samsung made additional quality improvements and refined the design further nearly six months later, addressing those initial issues that have disappeared.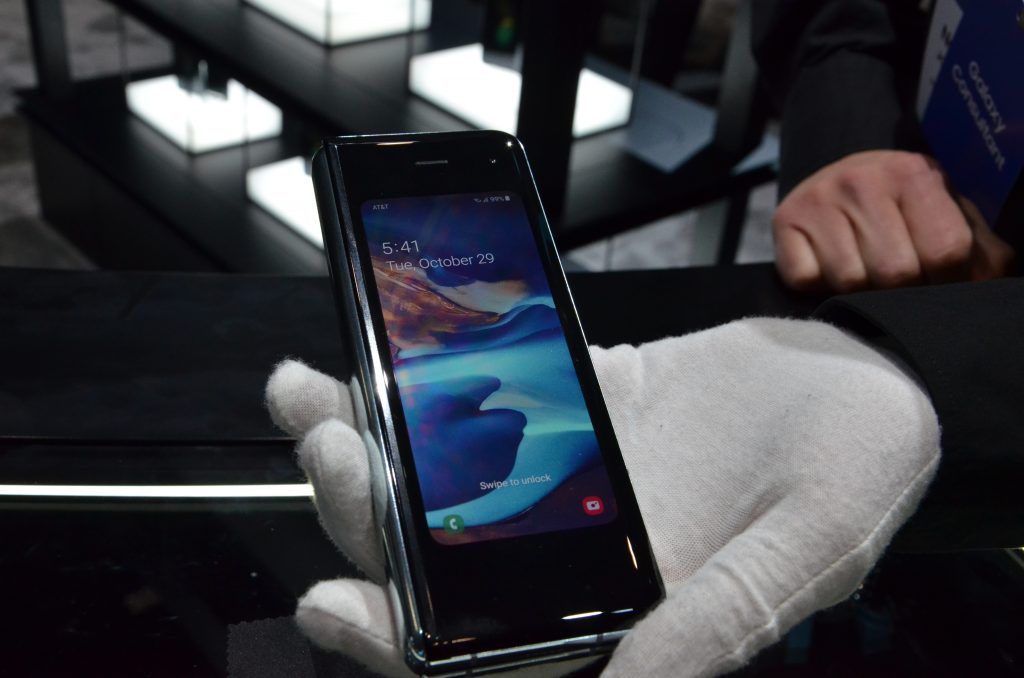 Pioneering innovation in mobile display technology has been a main force why Samsung has been the favorite among Android smartphone users over the years as they continue to make things even better than you would think would be impossible to improve on for the consumer. Ten years ago, Samsung introduced Super AMOLED smartphones in 2010 and continued to improve the technology today to Quad HD Super AMOLED, used in the bezel-less Galaxy Edge. Now that they are in the Infinity Flex age, they continue advancing and have created a new form factor of foldable smartphones.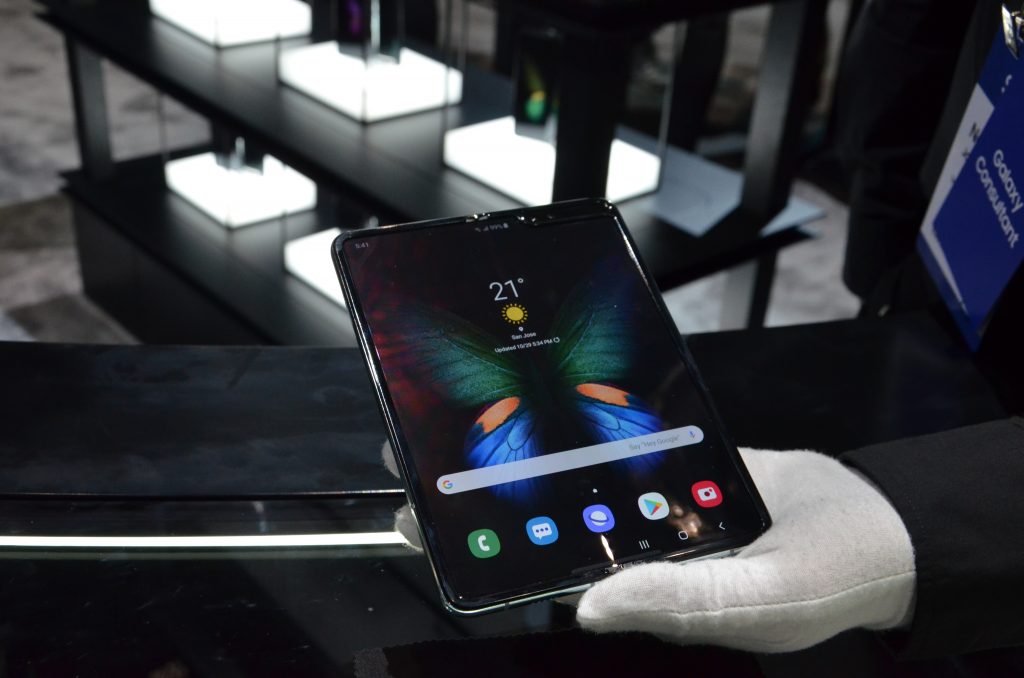 The Infinity Flex Display, and the phone itself has a tablet-sized screen that can be folded up to fit into a pocket. When folded, the view-able screen measures 4.6 inches. When unfolded, the device has a 7.3-inch display, about the size of a tablet screen.
It's difficult to fathom how this could be entirely possible given the physical and its dimensional characteristics. How is this possible to bend and fold a smart-phone as though it was a leather wallet that you can put in your back pocket?
Samsung basically re-imagined the way smartphones are made . They substituted the protective cover glass and replacing it with a composite polymer that is flexible and tough yet durable. They also came up with a unique adhesive that improves the elasticity of the component layers (cover window (PI), shock-absorbent film, ultra thin polarizer, flexible layer and backplane). Finally, they invented a new polarizer, reducing the thickness by 45%. All these factors would reduce the thickness of the phone in order for it to be folded and unfolded repeatedly hundreds of thousands of times, creating a new form factor, opening a new dimension with the Infinity Display technology.
As a side note, the Opening Keynote at SDC2019 also teased a new unnamed concept design of that of a traditional flip phone, much like those styles of Nokia and Motorola used in the early days of cell phones. The "clam-shell" foldable phone allows the device to fold width wise instead of lengthwise.
With the creation of the Samsung Fold phone, there will be endless possibilities to this newly created form factor which will continuously flourish and develop into a new era.
To Infinity and beyond!