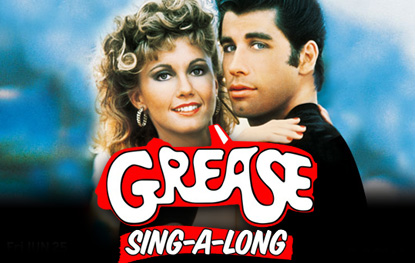 Fathom Events and Turner Classic Movies brought back to the big screen the most successful movie musical of all time- the story of the 1950's – Grease. Ted Mankiewicz, host of the television program TCM, in his introduction to the Grease Sing-A-Long that went with the movie event, invited the audience to experience again the story of teenage sweethearts played by John Travolta and Olivia Newton-John. For those who ask for "Tell me more" and recognized the many hits songs in the movie, the fun in this out in public with a large group event, was the collective singing along in the theater. Grease boasted a world-famous soundtrack including "Greased Lightning'" "Look At Me, I'm Sandra Dee," "Summer Nights," "Hopelessly Devoted To You," "Beauty School Drop Out" most of which the audience had a good memory for the lyrics to sing along.
But Grease is not a concert film based on hit songs, it is also a love story and is filled with the dancing modernized but paying respect to the classic musicals of the Black & White film era.  The film was an introduction to the world of singing and dancing for a new generation. As John Travolta explained in one of his interviews many years after the film was made, there was natural formula that actors in the 1950s that included singing and dancing. That is why he was able to quickly transition and continue to integrate acting, dancing and singing in his roles, in some memorable scenes as the batman dance with Uma Turner in Pulp Fiction.
It is interesting that Olivia Newton-John was an accomplished teenage singer prior to the film and that she first resisted to take a role in the movie. As she is an exceptionable singer who has her own show in Las Vegas, and until those days of filming the movie Grease, she was not that good of the dancer. The director who wanted her to play character of Sandy made things work. In the scene of vibrant, dynamic dance during the graduation event Sandy broke up with John for a moment and her side replaced some other female dancer.
Grease is fun to watch as the movie is like a glimpse of culture, fashion, hair style of 50s along with the singing-a-long with the stars.  It was a full audience participation and group event, and experience that you cannot obtain on VOD at home or on a mobile device – somethings are meant for the collective energy of a group to enjoy, and a fun, light music filled film is one of them.
The Grease Sing-A-Long Deluxe Edition will be available on Digital HD later this summer, invite some friends over and try to recreate the theater experience on a small scale.