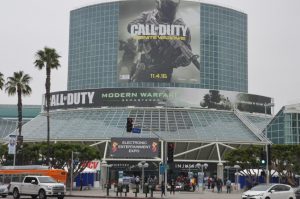 E3, June 2016 – Every year at E3, the Entertainment Software Association (ESA), that owns and operates the show, issues essential facts about the gaming sector. The ESA conducts business and consumer research, and provides analysis and advocacy on issues like global content protection, intellectual property, technology and e-commerce, is the valuable source for information such as players demographics and games statistics. Below what ESA's report shows for this year.
Who is playing and what is the players' demographics?
63% of U.S. households are home to at least one person who plays video games regularly, which is defined as 3 hours or more per week. There are an average of 1.7 gamers in each game-playing U.S. household. 65% of U.S. household own a device that is used to play video games and 48% of U.S. household own a dedicated game console.
According to the ESA the gamer demographics are as followed: the average game player is 35 years old: 27% under 18 years, 29% age is 18-35 years, 18% is 36-49 and 26% is 50 plus. 59% gamers are male and 41% female. The most frequent female game player is on average 44 years old and the average male game player is 35 years old. Women age 18 or older represent a significant greater portion of the game-playing population (31%) than boys age 18 or younger (17%). There is an equal distribution of female video gamers in age. 50% are 35 and under and 50% older than 35. The average number of years gamers have been playing video games is 13.
We know who is playing but who is buying?
The most frequent game purchaser is 38 years old. 60% of them are male and 40% are female. 52% of them feel that video games provide more value for their money that DVDs (23%), music (14%) or going to the movies (10%). Of the most frequent game purchasers: 41% purchase them without having tried them, 31% download the full game off the company's website and 30% purchase after downloading the trial version or demo. There is no surprise that 95% of gamers who own dedicated game consoles purchase video games for them.
What and how the gamers play?
48% of the most frequent gamers play social games. The top devices the gamers use are PC (56%), dedicated game console (53%), smartphone (36%), wireless devices (31%) and dedicated handheld system (17%). Top three types of video games played on wireless or mobile devices are: puzzle/board game/card game or game show @ 38%; action games @ 6% and strategy games @ 6% as well. The gamers who play multiplayer and online games spend an average of 6.5 hours per week playing with other gamers online, and 4.6 hours per week playing in-person. 51% of gamers play a multiplayer mode at least weekly.
Why gamers play?
53% of gamers feel that video games help them to connect with friends and 42% believe that games help them spend time with family. 75% of gamers believe that playing games provide mental stimulation or education.