When most of their competitors are making travelling computer cases for business people that are mainly designed for 14" and smaller Ultrabook computers, Kensington has made the Overnight Roller specifically for content professionals that use the workstation and for 17" screen computers.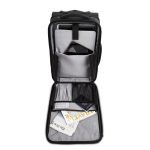 The SecureTrek 17"Overnight Roller by Kensington consists of three compartments; a 17" computer bag, an overnight case and a 10" tablet case. The main and biggest of these compartments is an overnight case that is typically good for two nights of clothing for either a man or a woman. It has the typical standard suitcase that features a strap to hold the clothes down in place and a roller handle in the clothes compartment. The next compartment has an extra wide Velcro strap to hold a 17" laptop secure with lots of cushion to protect it. In the lid of that pad has space for a mouse, webcam or even glasses. This area is also deep enough to hold other accessories such as a portable scanner or power cord. The third compartment is like a standard backpack with room for a 10" tablet, documents or other travel necessities.
Kensington's Overnight Roller has anti-theft security system that lets you to use a lock of your choice or Kensington Lock to secure the backpack to a fixed object.
The SecureTrek 17"Overnight Roller is on wheels which makes it a very useful accessory for any travel professional.